Topic: FS: Large Magnoli Royale Polo (updated)
Hi all,
I'm selling the updated version of the Royale Polo Shirt by Magnoli. It's a size Large and in Like-New condition. I've only tried it on but it is much too small for me, which is a real shame given that it really is a great looking and high quality shirt. The size is closer to a small than a large so please take a look at the shirt's dimensions before buying.
Price is $35 + shipping. Would prefer to keep shipping within the US. Let me know if you have any questions or would like more pictures.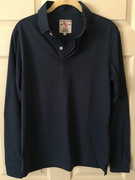 Chest (pit-to-pit) 21"
Shoulders 17"
Sleeve Length 26"
Bottom Width 21"
Back Length 28"
Bicep Width (unstretched) 7"
Last edited by The First Triumvirate (14th Jan 2021 18:43)