Topic: Bond Coat of Arms
Now that the Christmas holidays are upon us, and I have a bit more time on my hands, I'm setting to a project I have long wanted to get around to.
A solid Bond family coat of arms, as pictured in OHMSS.
I'm working on the scroll work and shield, all in 3D relief.
I plan to mount it on a metal shield, small enough to hang on the wall.
We'll see...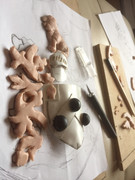 A Merry Christmas to all !
...one hundred caratsh rough!