Re: Weapons used in the James Bond movies.
Here is one of mine favorites besides the Walther PPK, P5, WA 2000 rifle and the P99 The H&K UMP 9mm as seen in both CR and QOS. Two UMP's are seen used by Gettler's henchman in Venice both fitted with vertical fore grips and suppressors, while one of them also has an ACOG scope. Bond uses a suppressed version to shoot Mr. White at the end of the film. In the teaser of QOS, Bond again uses the UMP with the stock folded and the suppressor removed to defend himself during the car chase.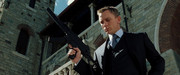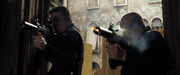 Produced: 1999-present
Caliber: 9x19mm
Weight: 5 lbs (2.2 kg) in 9x19mm
Length: 17.7 in (45 cm) stock folded, 27.2 in (69 cm) stock open
Barrel length: 7.9 in (20 cm)
Feed System: 30 round box magazine
Fire Modes: Safe/Semi/Full-Auto
The UMP is quickly becoming popular in the military and law enforcement community, Heckler & Koch developed the UMP as a lighter and cheaper successor to the MP5, though both remain in production. The UMP9 (the 9×19mm version of the UMP, it also comes in .40 S&W and .45 ACP) is almost 0.2 kilograms (0.44 lb) lighter than its MP5 counterpart. Its predominantly polymer construction reduces both its weight and the number of parts susceptible to corrosion. On another note, yes the screen used Sig P210 from QOS was just a standard version visually modified with rub on transfers and a gold coin sunk into the grips, to look like the 50th anniversary model. This was mentioned in 007 magazine's Most Famous Gun In The World.
Last edited by PPK 7.65mm (7th Aug 2017 22:43)