Re: The Crazy Cat Person Thread
The Red Kind wrote:
VesperMelograno wrote:

"Person" contains "son" so it is not gender neutral

I have had a cat for a month. Her name is Daisy and is 12.5. She is pretty freaking cool. It was not intentional but She matches my apartment which is grey, yellow and white. Daisy was at the shelter for two years. Poor girl. She is not feeling great so I am taking her to the vet tomorrow. I have never really been a cat person but I totally get it now. She really adds to my day.

Daisy is beautiful. Hope the trip to the Vet went Okay?
Thank you and thank you for asking. It is most likely kidney failure. I adopted Wink because they were buddies at the pound. Here is the "long lost" stare.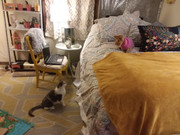 I've always wanted to have Christmas in Turkey