Topic: Secret Cinema presents Casino Royale in 2019
Secret Cinema, the brilliant and immersive cinema experience, today posted the following cryptic message on its Instagram page: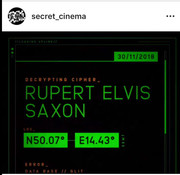 That's an anagram for Universal Exports, and the co-ordinates are for Prague. Could it be that they're planning to show Casino Royale?
Last edited by Charmed & Dangerous (30th Nov 2018 18:30)
"How was your lamb?" "Skewered. One sympathises."