Topic: FS Lucini Harrison Brown Chukka boot's
Brand new chukka boots in size 8.
Brown suede with a Goodyear welted Dainite sole from ~2015 and discontinued for a while now I think. Briefly tried one on but it was obvious they were stupidly too big for me, although I'd say they were fairly true to size. Compared against my CT boots they are only a smidge larger so it's likely just my weird shaped feet.
I actually bought these for a holiday but rushing around meant I never got round to returning them so they have sat in the wardrobe ever since.
Box arrived a bit tatty (had this a few times with shuperb) but obviously the shoes are as new as a new thing still in the plastic with the paper inside.
£80 + p&p
I'll add some actual pictures later but here's stock ones for reference.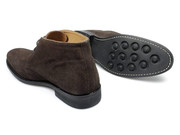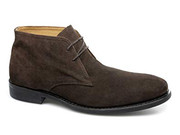 All this description and they will most likely be snatched up by someone who already has some and knows they are an absolute bargain