Topic: Tom Ford & Brunello Cucinelli Ties, John Smedley Bobby etc
Looking to sell Tom Ford & Brunello Cucinelli ties and John Smedley sweaters (including Bobby). See below for pics and details.
----
Looking to sell the ties in the below image. From L to R: Tom Ford gray silk from Spectre, Tom Ford indigo silk from Spectre, Tom Ford gray 55% silk / 45% cashmere, Tom Ford midnight blue silk, Brunello Cucinelli navy/copper dots silk, Brunello Cucinelli wool/silk navy/red dots, Brunello Cucinelli linen/silk taupe with blue stripes, Brunello Cucinelli wool gray with brown chalk stripes, Brunello Cucinelli brown silk, Brunello Cucinelli copper/blue stripes silk.
All ties in very good to excellent condition. Seems to be some slight fading/wear on the two Tom Ford Spectre ties, as well as minor pilling on the Brunello wool/silk navy/red dots tie.
Asking $110 each plus shipping. Located in NYC.
Update: Indigo and gray Spectre ties sold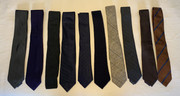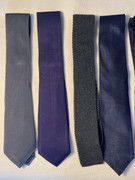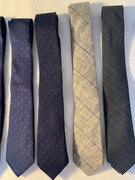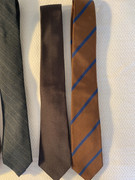 ----
(L) John Smedley Bobby v-neck merino wool sweater from Skyfall, except in midnight blue instead of SA black, size S. Never worn (just wasn't my size), excellent condition. (R) John Smedley slim-fit roll-neck sweater, new with tags, in size M, also midnight blue merino wool.
Asking $125 each plus shipping, PM with offers. Ships from NYC.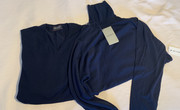 Last edited by 5991erd (17th Aug 2019 19:49)