Topic: Scaramanga's Golden Gun Fountain Pens, For Sale!!
Dear All,
I know many of you are die-hard Golden Gun lovers, so I have decided to share my Golden Gun pen collection.
I have spent the last 18+ months scouring the globe for these rare pens. They fetch very good money in pen collector circles, however I have never seen any for sale within 007 sites / forums.
As many of you know, there were a couple of specific screen shots where the actual writing fountain pen featured:
I now have 5 fountain pens in total, one of which is part of a box set: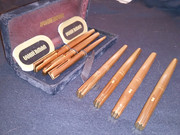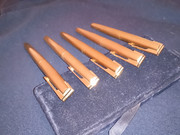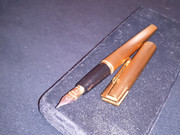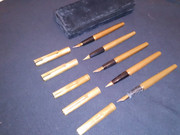 Obviously these pens are old (pre-film / 1974), so do have a few age related marks. However, given their age, they are in very good condition.
I will only be keeping a single pen for myself, so the other 3, and the full box set are up for grabs.
Box Set, including GG fountain pen, small fountain pen and ball point,
£250 + shipping (worldwide).
Comes with black velvet box, and original Waterman papers.
Single GG fountain pens
£150 each + shipping (worldwide).
Unboxed, but will be carefully packaged for shipping.
As I have dealt with a few people on here, hopefully everyone knows i'm a straight bat, and have a good degree of integrity.
This is first come, first served.
Drop me an email on here if you're interested in having something this rare in your collection. We can then sort our postage costs etc.
If anybody's wondering why i'm selling them!:
1. Realistically, I don't need this many (although its been fun tracking them down across the globe!).
2. It would be good to get some of these out into other peoples collections.
3. I paid for a few of them on a credit card, which I could really do with paying off. Bit stupid really!
Cheers
Best of luck guys!
Do you expect me to talk??

No Mr. Bond, I expect you to die!!