Topic: 1917 - Mendes and Deakins' Next Collab
When I heard 1917 announced I thought to myself how it's probably just another war film trying to follow in the footsteps of some recent critically acclaimed efforts like War Horse, Hacksaw Ridge, Dunkirk etc and how I might catch it some day in the future when I have a little spare time. Well I think I should have thought a lot higher of what Sam Mendes and Roger Deakins can pull off together.
I'm not sure if anyone else has seen this featurette released yesterday but it absolutely blew me away—the work that went into filming this was incredible! This is one I really don't want to miss on the big screen!
https://www.youtube.com/watch?v=3hSjs2hBa94
0:25-0:49 on that vid is amazing...I would expect a film these days to only have 20 odd actors running infront of the camera and then just adding the 100 more in the background with CGI in post.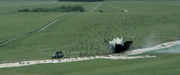 Who knows, the script might be horrendous but it certainly looks like the cinematography will get me though 1917 and allow me to walk out of the cinema satisfied.