Topic: LALD Shoulder Holster
I have now made just about every iteration of the Connery Bond shoulder holster from the early Bond movies. I have also made the Lazenby version. It was time to tackle the Moore Bond holster. His first film is easily my favorite of the lot. Very much ensconced in the blacksploitation genre of the time. In keeping with Ian Fleming's novel and riffing off the heroin epidemic caused by the likes of Nicky Barnes and Frank Lucas, Live and Let Die was a heady mix of spies, voodoo, sex and dope. Bond's holster was equally badass with the traditional blue offset by black leather.
The LALD holster appears to be a mix of Connery's from his early movies and Lazenby's all black leather affair. It is first seen in LALD on Bond's bed in his Hotel room in San Monique. For the sharp eyed amongst you, Connery wears a very similar looking holster in Diamond's Are Forever. Connery grabs it off the bannister of his Whyte House hotel room after coming down the stairs with Felix Leiter before he goes "mountaineering" to see Willard Whyte/Blofed in the penthouse. Nevertheless, you never see Connery's holster in this movie in great detail and only in a long shot.
Here are some stills of Roger Moore and his holster from thespyboys11 (Ed) archive: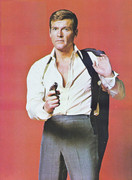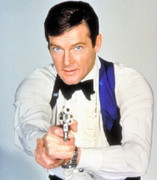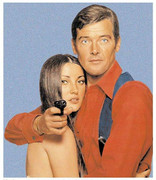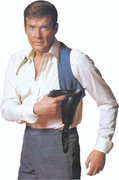 My version: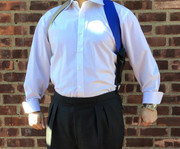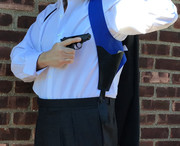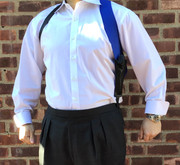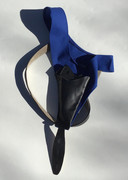 Last edited by Donald Grant (24th Mar 2019 03:07)
So, what sharp little eyes you've got...wait till you get to my teeth.

"People sleep peacefully in their beds at night only because rough men stand ready to do violence on their behalf." Richard Grenier after George Orwell, Washington Times 1993.