Re: Man from UNCLE Collectable Thread and For Sale
Resurrecting an old thread to say yippee!!!
I finally got a size L UNCLE jacket at a great price.
Thanks to GS for pointing the jacket out to me.
Part of the reason for the great price was some snags on the wrist. The GBP hitting a near record low against the USD also helped.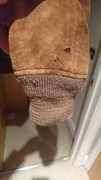 After some research I found someone local with great reviews to fix the sleeve. A San Francisco leather store that does great work quoted me $65 for the work. My price to fix was only $13 and here are the results: