Topic: Skyfall Bond parent's gravestone
Hi guys,
I decided to revisit an old favourite of mine recently as I'm getting myself back into circulation.
I'd not cast much in plaster, but this happy accident occurred through using a slightly too thick mix of the plaster.
A 'ten years later' version perhaps?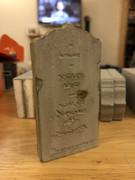 MG