Re: What Bond locations have you been to?
From my recent vacation in Japan (July-August). While others bring their traveling gnomes, I brought along a couple of my Bond toys:
Though not screen accurate, here's Bond and Aki racing through the Ginza: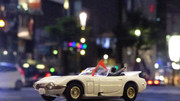 Commander Bond, perhaps visiting "Dikko on the Ginza":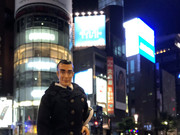 Taken not quite from the exact same vantage point, here's Commander Bond visiting Himeji Castle: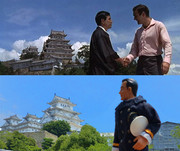 Also not canon, but I happened to have with me my reading copy of YOLT that I bought in 1984, on Miyajima Island, a short distance from Hiroshima.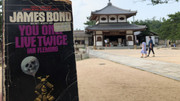 Aki rescuing 007 in her zippy Toyota in front of Osato Chemicals, now known as the New Otani Hotel: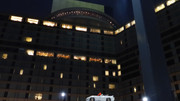 "Am I to say "I love you" to one of these chaps?" Though not at the Ryōgoku Kokugikan sumo arena used in the movie, this was taken at the Arashio-beya Sumo Stable where one can watch Sumo practice for free from the street from 6:30 to 10:00 am. Interestingly, I just learned that both venues were roughly the same distance from my hotel, just a little over 2 km and had I known this I would have also visited that sumo arena for the sake of it being a filming location.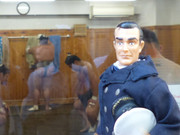 "...the purposeful slant of his striding figure looked dangerous, as if he was making quickly for something bad that was happening further down the street." -SMERSH on 007 dossier photo, Ch. 6 FRWL.....