Re: New 007 Magazines
Thanks for your comment. I'll do if I find something new
Re: New 007 Magazines
And getting back on subject (thank you Quentin Quigley)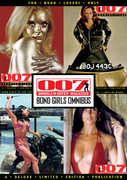 Available to pre-order now!
007 MAGAZINE
BOND GIRLS
OMNIBUS
Re: New 007 Magazines
Got my copy of the Daniel Craig special issue in the mail this weekend. Looking forward to reading it, along with a few other issues that I picked up last year and never got around to reading. I am especially glad that I got all five issues of the Goldfinger series since three of them are now out of print.