Topic: FS: Goldeneye Church's Diplomat
Hello!
I have for sale a pair of Church's Diplomat UK size 10F. The shoes were worn by Pierce Brosnan in Goldeneye during the tank and train scenes. The pair has been worn about 25 times. These come with dustbags and original box. Price: €295.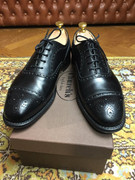 I'm happy to send more pictures to whoever is interested.
I am located in Europe, no problem to ship internationally.
Thank you for looking.