Topic: Sunspel Riviera Polo Shirt (from around 2007)
Hey guys,
I have an almost brand new Sunspel Riviera Polo Shirt - in its initial form with respect to the buttons etc. - from around 2007 for sale.
- Condition: almost brand new - worn only ones, afterwards washed and forgotten it ever existed.
- Size: Small
- Color: Anthracite
- Asking Price: 50 Euro + Shipping (depending on your location)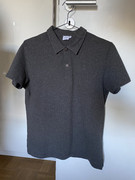 The roughly estimated fees for secured shipping with DHL are:
- Within the EU: 14 Euro
- Rest of Europe: 30 Euro
- USA: 37 Euro
If you have any questions, please do not hesitate to contact me.
Kind regards,
David