Topic: Bond-ing Online Zoom Event - May 2, 2020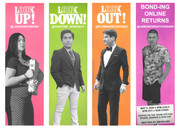 Hi everyone! A few Instagram friends and I are putting together a Bond community event on Zoom next weekend. I'd like to extend an invitation to everyone here on AJB. It's a great opportunity to meet new Bond fans, we'll have opportunities to talk about Bond, we'll have some trivia and we'll be giving a prize away at the end of the evening.
Date: Saturday May 2, 2020
Time: 6PM PST, 9PM EST, 9AM China (Sunday May 3rd) & 2AM London (also Sunday May 3rd)
I wish we could accommodate all time zones but this is the best we could do.
Zoom Meeting ID: 508-921-801
We will be using the Zoom app, if anyone needs help, please feel free to reach out to me via PM and I can answer any questions and/or walk you through the Zoom using process. Hope to see you there!
Last edited by lilusako (26th Apr 2020 17:35)