Topic: Jordan Klein's Thunderball Towsled restoration
For various reasons it has been a while since the Donkey posted anything here on AJB007 so here is something you really need the nads or indeed Donkey Balls to undertake and to be honest I have been itching to do this since I purchased it from the first Propstore Live auction and it has always been on the back burner since sympathetically restoring Sir Sean's YOLT Little Nellie flying helmet, the screen accurate restoration of Jordan Klein's Thunderball Towsled. With the battery cover removed you can clearly see the original silver and red paint lurking beneath so not too sure why the original restorer in the USA's colour match was not SA?. When Jordan supplied it to Propstore for auction, like the YOLT flying helmet it had been repainted black for use as an underwater camera mount amongst other things!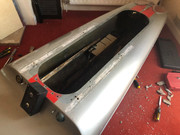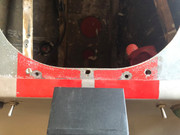 Boat building 101. Apart from mounting the spear guns these wooden vanes are structural but for some unknown reason the original restorer? chose to stick them down with slabs of filler which was able to flex so the battery cover didn't fit properly & make a good seal. All those layers of sh*te filler have now been removed allowing a much better & therefore tighter fit. You can see just how thick the filler was next to the left vane which it used to be underneath!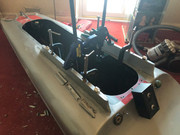 Early days and shed loads of work to go but after who knows how many decades of being fitted incorrectly? The battery cover is finally fitted flush inside rather than astride the Towsled casing giving a more pleasing SA rounded appearance and all those irritating bloody screw holes have been filled in apart from those which would entail rubbing down the original remaining 55 year old paint swatches!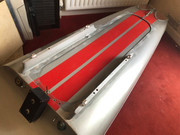 A further illustration showing just how incorrect the silver is as this major rub on the black painted keel reveals the original darker colour beneath. One good thing though, the remaining black paint is 100% original!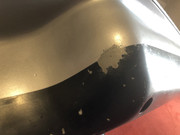 Why a Towsled sinks, unfortunately these are not all original ballast holes as some "tool" made two bloody great holes in the hull to stick scaffolding poles through to mount it to its bespoke and now binned base!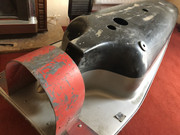 After preparing the shell, 37 rivets were drilled out which secured the aluminium trim which in turn holds the top casing to the lower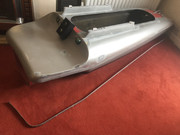 Last seen like this in 1965?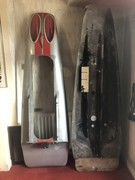 Of the 12 Towsleds built for the production this one is marked VII (7) in Roman Numerals and is also signed Jordan Klein although the only way to see said markings is to disassemble it!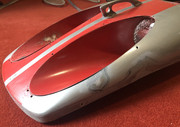 At one time in its life the Towsled had received such a hard frontal impact that the nosecone split and folded back in on itself, a bit like when you try and assemble a box and one tab will only lay flat when it actually needs to fold beneath. It's 100 times harder with fibreglass matting, 55 year old fibreglass matting!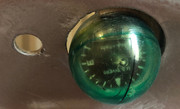 Apart from finding the number "7" inside the casing this was an exciting find for me. Originally held in place and indeed obscured by filler and an overspray of silver paint, I always believed this was just a glass dome for a green light however after spending in excess of 6 hours chipping, carving and rubbing down the filler with 80 grit paper & finally polishing the glass with hot soapy water and wire wool & a spot of buffing with toothpaste and an old sock, a liquid filled US Divers compass was revealed and it still works!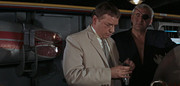 As research is always ongoing and I'm pretty anal when trying to lock down details, while studying screen grabs of the Towsleds locked in their wall mounts aboard the Disco Volante, with a major Doh! and full hand face slap I've realised that to accommodate the incorrectly fitted/oversize battery cover the wooden vanes which the spear guns mount on had each been moved outwards by roughly 1" meaning the freshly filled irritating screw holes had to be opened out again as these were the original mounting points ...oh f*ck it!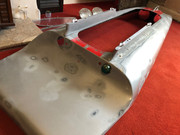 The now correctly positioned wooden spear gun mounts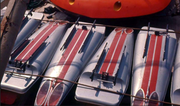 The replica control box is bloody wrong too because as this rarely seen BTS image reveals the original is partially transparent plus the shadow cast by the box clearly shows a power cable coming out of the left side, and entering the sled where a switch has been incorrectly installed (like the box copied off the very wrong IFF example!) & I bet no one had noticed that before?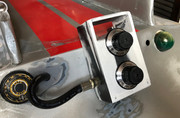 The screen accurate? Control box with power cable starts to take shape courtesy of a shadow cast in a 55 year old photograph. Just requires a simulated glass gauge showing how much juice the batteries were using
Scaffolding pole holes filled leaving the correct amount of ballast holes (4)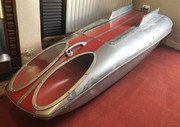 Test reassembly complete. Next stop paint!
Last edited by ppw3o6r (5th Aug 2020 10:53)