Re: Bond on TV and Radio
I too enjoyed Moonraker, but do feel they did miss a few things. They didn't describe Drax, which I
would have loved. In my view of Sir Hugo, I've always imagined an actor like Brian Blessed.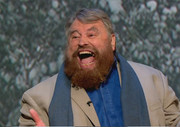 A larger than life character, with a big voice, Booming across a Gentleman's club.
Also, the character of Q has appeared in a few of the radio plays. Now I was always
under the impression that Q was an "EON" invention, and owned by them. Hence why
J Gardner couldn't use Q in his novels and had to invent another character. Would anyone
know how or why Q can appear in these stories ?
Last edited by Thunderpussy (2nd Apr 2018 12:05)
"God has given you one face, and you make yourself another"