Topic: Quatermass II similarities to Moonraker novel
In 1955, a year after the MR novel was written, the BBC broadcast "Quatermass II"- a science-fiction serial in six parts written by Nigel Kneale and a sequel to "The Quatermass Experiment". A Hammer film production was released two years later.
Q2 does not have a lengthy gambling prologue, and MR does not have invading aliens, but both have a rocket being built by a team of scientists with government approval in the SE corner of England which ends up being used in a different way than intended while the protagonist gradually uncovers a sinister plot with an apparently benign cover story.
The characters are almost completely unalike- there's no Drax figure in Q2 and Quatermass is nothing like 007, although Fleming's minor character Vallance is very similar to Neale's Lomax - and the themes of each story are distinct, but the details are similar enough that watching Q2 is as close as we can get to imagining what a 1950s film of MR would have looked like (B&W, dodgy SFX, and all).
It was directed by Val Guest, of CR67 fame (if that's the right word).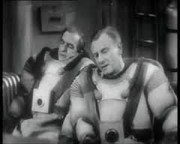 "Don't take me round the world one more time... please."
* This is from the first Quatermass movie.