Re: Budget Bond Collectors Resource
canoe2 wrote:
The Bond Experience wrote:

Johhhhhhhnnnn! BTW, did anyone find a good alternbative to the Brunello shirt worn with the Sloop suit...?

Davvvv ... id!

Blue button down shirt is one of the first things I'll be working on. Although DB6 mentioned a couple of options one page back.

Quick question: for the Maden waxed trucker jacket, how much did everyone size up by? I'm a medium/40 suit jacket in almost everything. Not sure if I need a large or XL since I'm right in the middle between those two on the sizing chart.

Cheers!
Hi John,
Welcome back.
I am usually a large/41-42. I sized up one size to a XL in the Maden.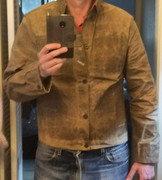 My XL has a chest width from pit to pit of just under 22 inches and a shoulder width of 19 inches. The outer arm is 25 inches. Back length from bottom of collar to hem is 24.5 inches. A tad longer than the Maden size chart.
I had ordered the XL and XXL from Amazon. The XXL was huge on me. I was able to use a 50% off coupon for the XL so it was $22 + tax. Looks like Amazon won't be restocked until mid-March.