Topic: Location of the Hildebrand Safe house
Just for fun, i thought i would see if i could find the Hildebrand Safe house on Apple and Google maps, and it was much easier than I thought.
The panning shot of M, Taner and Q walking up the steps at the rear of the house shows Trafalgar square in the background
Apple maps, used at roughly the same angle shows the same building, wit the 3 flights of steps, and this is on Spring Gardens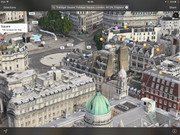 Google street view of the building, shows this disused shop front, notice the 2 recessed bays, and particular shutters
The initial shots of M, Tanner and Q entering that building at street level shows this.... familiar?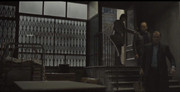 So its on Spring Gardens, just off Trafalgar Square, possibly 29 or 25....