Topic: A really, really stupid question about the World Cup...
Aside from, how come James Bond is manager of the Swiss team?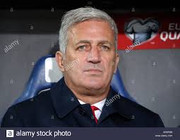 And how come we haven't started a World Cup thread yet?
It's those Red Square backdrops for the BBC and ITV shows, to when the presenters and guests chat about the match.
Does that mean they actually have a studio nr Red Square, and that's the live background?
Or is it simply a big plasma screen behind them, with a live feed of what is going on there, and the studio is elsewhere?
Anyway, having it in Russia has done wonders for team etiquette. You don't see players surround the referee after a controversial decision - over there it's more than two in a protest and you get arrested.
"This is where we leave you Mr Bond."

Roger Moore 1927-2017