Re: James Bond Wardrobe - 006's collection
Merry Christmas AJBers!
I hope you all managed to get some great presents!
With the Christmas break I have updated the wardrobe page with an entry for the Goldfinger Hacking Jacket and Cavalry Twill trousers from Mason & Sons (as above). I was going to create another topic page for the accessories I have collected, instead I have added it to this section.
Like my previous posts, this will be a long(ish) read, so take your time and enjoy.
Scarves
All of the scarves features are from the DC era of movies.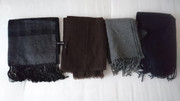 So, let's get into the details
Quantum Of Solace
Kazan Scarf
https://www.bondsuits.com/outerwear-in- … of-solace/
I managed to receive this Tom Ford scarf from a very generous AJBer, this is the same make and model scarf as featured in QoS. It has a brown plaid pattern in silk on one side with a cashmere lining on the other. The contrast between the layers mean that it is both a luxurious and practical scarf.
Skyfall
Skyfall lodge scarf
https://www.bondsuits.com/the-barbour-jacket-skyfall/
This brown Tom Ford cashmere scarf was first identified by Simon Ruzgar. I bought this scarf from the Tom Ford boutique in London, and whilst it might be a shade lighter than the one in the film, it is very versatile. Whenever I wear the Barbour To Ki To jacket, I usually wear a scarf as the leather collar can be a little uncomfortable. Overall this is a fantastic lightweight but insulating scarf.
MI6 building scarf
https://www.bondsuits.com/navy-topcoat/
I was very fortunate to get this Johnston of Elgin mid grey scarf. Much like all the other cashmere scarfs, this is very comfortable and fits with the Tom Ford topcoat. Again, this is a favourite of mine and is very practical. The only downside is the length, it could be a little longer, still it does the job.
Spectre
Q Lab Scarf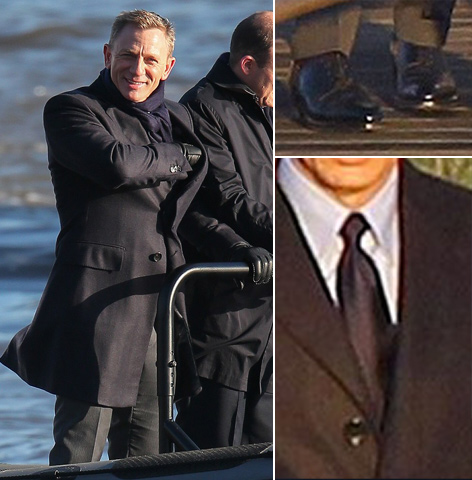 https://www.marksandspencer.com/pure-ca … /p60172499 in dark navy (currently sold out)
I initially thought this scarf was from Johnston & Elgin, but thanks to Simon Ruzgar and Thomas Harris, the scarf is actually from Marks and Spencer's. This is a very prudent and affordable scarf that can be worn with any coat or jacket. It has a good length which allows you to tie the scarf in a number of ways. The scarf is currently out of stock, but it is a regular feature of Marks and Spencer's cashmere collection.
Cufflinks
My cufflink collection includes some screen accurate pieces and frugal replicas.
Dr No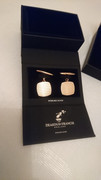 https://www.masonandsons.com/blogs/inte … s-sinclair
Mason & Sons Deakin Francis X Sinclair cufflinks - https://www.masonandsons.com/products/d … -rose-gold
I recently obtained the Deakin & Francis x Sinclair engine-turned cufflinks from Mason & Sons. These cufflinks are the first thing you see of James Bond when he is playing baccarat in Dr No, and you see it again in Goldfinger. These cufflinks are versatile and very timelessly stylish and are still available at Mason & Sons. I personally love these cufflinks and have worn these on many formal occasions
The World is not Enough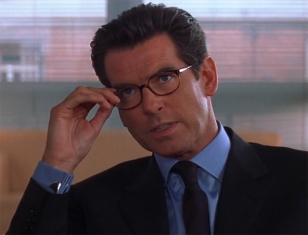 http://www.jamesbondlifestyle.com/produ … not-enough
The Georg Jensen 88 cufflinks were recently identified on James Bond Lifestyle. These cufflinks are solid silver and are very distinctive. They are very sculptural, and they can get caught on the sleeve opening of suit jackets. However, they are a very nice piece and will go with a blue or white shirt.
Casino Royale
Montenegro Train Scene – St Dupont 5174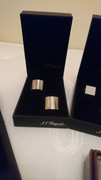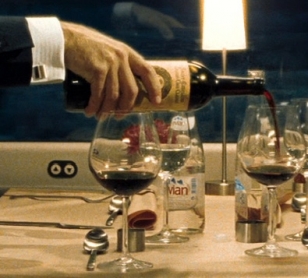 http://www.jamesbondlifestyle.com/produ … -cufflinks
I have had these cufflinks for a number of years and was lucky to get a white self stripe shirt from Hawes and Curtis that is similar to the shirt that DC wears in this scene. This like all the other cufflinks work well with a nice dress shirt and suit.
Hotel Splendide – St Dupont 5172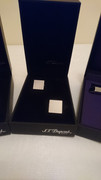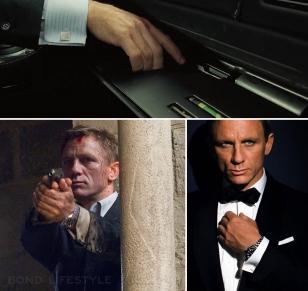 http://www.jamesbondlifestyle.com/produ … -cufflinks
These are my go to cufflinks and they go with any colour or patterned shirt. These cufflinks were also featured in Quantum Of Solace which make them versatile.
Casino – St Dupont 5244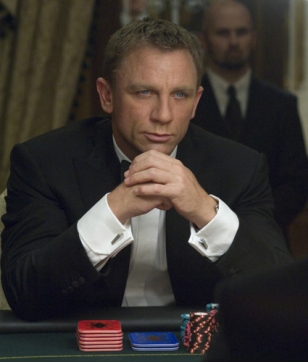 http://www.jamesbondlifestyle.com/produ … -cufflinks
These cufflinks are the holy grail from all of the DC series. I was very fortunate to obtain a pair from another AJBer. The "coffin" design is quite striking and the contrast between the matt and polish elements of the cufflinks give it that sparkle. I have a bespoke Turnbull and Asser casino shirt which matches the cufflinks perfectly!
Skyfall
Tom Ford Istanbul Cufflinks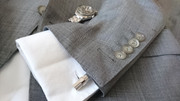 http://www.jamesbondlifestyle.com/produ … -cufflinks
https://www.tomford.com/striped-t-cuffl … _color=WGO
These cufflinks are still available from the Tom Ford store, however they are very, very, very expensive!! My alternative cufflinks are from Hawes and Curtis and whilst it has a t-clasp, it does the trick. I have worn this with a white shirt and the Tom Ford Istanbul suit and tie and Crockett and Jones Tetbury's which really complete the look.
Tom Ford Orbis Non Sufficit Cufflinks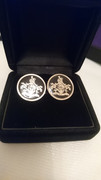 http://www.jamesbondlifestyle.com/produ … -cufflinks
I wasn't able to afford the genuine cufflinks, although I do hope that Tom Ford would consider doing a reissue. Instead I obtained these replica cufflinks from Hart008 who was brilliant in perfecting the design and manufacturing these cufflinks. The details didn't end at the cufflinks but the fabulous presentation box and certificate that came with the cufflinks. These were a very limited run of 50 pieces, but they are beautiful.
Spectre
Silver JB cufflinks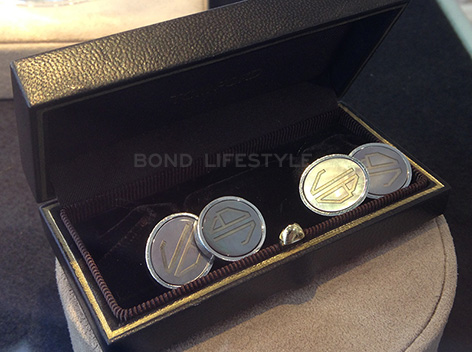 https://onlineonly.christies.com/s/jame … g-15/25139
Like the other Tom Ford featured cufflinks, these were unobtainable and probably extremely expensive. These alternative cufflinks come from AJBer Hart008 who went all out to make a very nice pair of silver / mother of pearl effect cufflinks with the engraved JB. I absolutely love these cufflinks and have worn these with the Turnbull and Asser casino shirt.
I hope you have enjoyed reading this update and will be sure to add more additions to this page.
For England James?

Instagram: instagram.com/tie_another_day