Re: golden gun
so the previous created from 3D scan copy on black background is the one on top on the 5 guns pictures right?
It has a strong FE look IMO
I would be happy to see the real 3D scan.
Here is a study drawing I made some years ago, mostly based from the well documented gun, visible on exhibition.
Drawing this, on thegimp was a horrible trial, but I already started to think about a way to mix the gun, and real items, pen, box etc, I made a first pen design with longer removable end, and was planning to make a fake piston inside pen with narrow nib block, removable from the back, but I admit I still don't know how I will make the pen.
The main issue with the pen, is to keep it accurate to real pen, it has to get a 65mm long cap and a 75mm long body, but to keep it accurate to the gun, it has to have a visible 45mm long body area.
What is interesting is when you put the cap on end of the waterman pen, it leaves exactly a 45mm visible body, I think it's the main reason why the design on gun has a 45mm body, and the cap is a bit larger, I think they designed following the waterman with cap on body end.
Wht is strange is during assembly in movie, the design is functionnal, but totally wrong, compared to a real waterman, but I think this is because of technical issues, it's very hard to get something realistic, and functionnal, so they prefered to keep the functionnal aspect, I remember I have read actor said it was horrible to make assembly he had to train.
What I don't like with my narrow pen inside the golden pen is the nib design, now I have some real watermn, I think I can't make such a design using a real waterman concorde nib, I would need a lathe here in my house to make it and I don't have it, so I think I will make the thread on nib side, removable nib block and switch the cap to the end of the body, probably with a hidden screw or so, still don't know, I was even thinking about a moving barrel to simulate compensated barrel and using it for the cap assembly, but it makes a hard work for printing, adding material to get the right printing thickness and sanding down once I get it.
Also, the barrel would have to be machined on a lathe or so.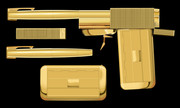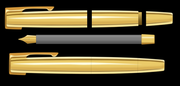 Last edited by parfaitelumiere (9th Sep 2018 08:18)