Topic: Thunderball Shoulder Holster
I haven't been making shoulder holsters for a while, but a recent request from a fellow in the Netherlands for my Dr. No style shoulder holster reignited my passion for the James Bond shoulder holster as worn by Connery, Lazenby and Moore.
One version that intrigued me was the one worn by Connery in Thunderball. You only catch a glimpse of it after Bond has a dalliance with Tina Volpe in his hotel room. Largo's henchman are at the door when they go to leave. They subsequently disarm Bond and you get a glimpse of the holster witch features a brown strap over the right shoulder and no boxed X stitch on the left shoulder as seen on the previous holsters. Here is a still featuring the holster: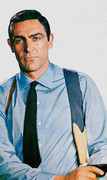 Here is my prototype: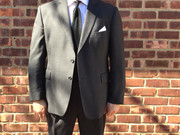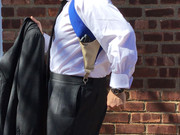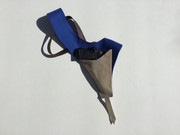 Last edited by Donald Grant (17th Mar 2019 20:26)
So, what sharp little eyes you've got...wait till you get to my teeth.

"People sleep peacefully in their beds at night only because rough men stand ready to do violence on their behalf." Richard Grenier after George Orwell, Washington Times 1993.