Topic: So I heard you were looking for a Bond grey T-shirt...
...one with holes and all? Got what you wanted right here: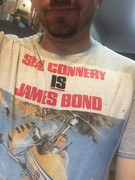 Hope you'll excuse the prank while we finally ID the sailing T-shirt... this was purchased at Zara a while ago, circa QoS if I recall correctly.
Got the YOLT and the TB ones. There were a few more atm, but didn't like them as much.
"Enjoy it while it lasts."
"The very words I live by."