Topic: Special Edition Aston Martin DBS
To mark the 50th Anniversary of OHMSS, Aston Martin are releasing a Special Edition DBS...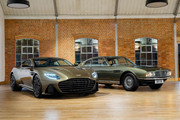 But why...?
Did they not go with the original colour?
Did they choose those hideous wheels?
Did the emphasise that grill?
Still, if you're not put off and have £300,007 kicking around spare, go ahead!
Love the photo shoot with the original though!