Topic: UPDATE: For sale: 1x SA Vuarnet 06 sunglasses
Apparently my family and friends know me too well, so I received multiple pairs of the SA Vuarnet 06's for my recent birthday. Unfortunately, I had them ordered already by the time, so now I ended up with 3 pairs.
2 of them I am selling here, if interested pls pm me.
Like mentioned before, these glasses are amazing and a nice wear regardless of the recent Bond-connection.
New and straight from the factory, they come with a cleaning cloth and the usual paper stuff.
If you have questions, please feel free to ask.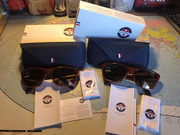 Last edited by AugustWalker (9th Jun 2019 10:54)
The name is Walker by the way.