Topic: OHMSS DBS Restoration Update
Hello Fellow Collectors,
Been a very busy spring and early summer, as Her Majesty's DBS is still in the workshop, and it is a frustrating period to have missed the OHMSS 50th celebrations as well as the DBS 50th going on this weekend with the AMOC. Waiting on parts, waiting for an open slot with a metal fabricator for the front "Sharknose." So, what to do? Work on those items that I can...oh, whilst smiling all the way!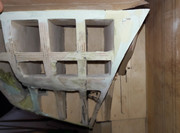 Firstly, a critical part of the buck for the Sharknose, and that is of the wheel well opening. Since these are all hand made cars, each wheel well opening differs, even side to side, so it all must be templated and sculpted to size.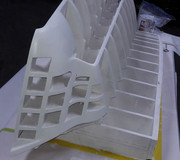 Spot of paint, and the completed buck is ready for a metal guru to shape and gas weld on the aluminum panel. Probably 30 pieces to make the panel, and 200 hours. Average metal former here is $157/hour, so it will be a huge ticket at the end...however, it will be 100% Bond, and worth every penny!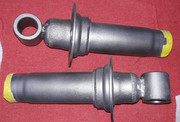 This was a fun job. The original front dampers, made by Armstrong, are not rebuildable, yet have a lovely, period shape to them, where modern Koni units look, well, modern....So, I gutted the Armstrongs, made an extension on the housing with a replica threaded gland nut, welded it all up, and installed the modern adjustable Koni units...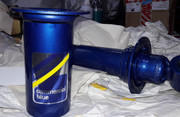 ....and the result is a 100% original looking Armstrong damper, with wonderful, modern innards. I even worked with a graphic designer in San Francisco to repro that all important decal. I since have sent extras to other DBS restorers to help them with concours points. This was a fun part of the operation.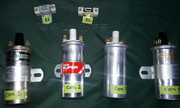 Next, here is a lovely smorgasbord of Lucas ignition coils. Which one is correct? Which one will actually work? Which one will not leave you stranded on a Sunday outing? Well, firstly they must be sent up to my Lucas guru, Oddparts, in our Napa Valley. He has a special jig to see whether the coil is wired for positive earth, or negative earth. Some were, some weren't. Fun? Add the resistor coil, and you get the optimal combo for my ignition. Opted to use an American MSD unit that will be hidden under the glovebox, and original Lucas point type distributor. The MSD will help immeasurable with hot and cold starts, and compensates for our lousy petrol here in the Communist Republic of California.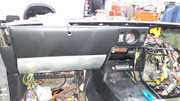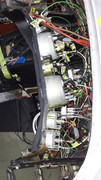 It may look a mess, but, believe it or not, I know where every wire goes. Well, nearly every wire...
I ended up remaking the entire wiring harness again from scratch, relocating several components: Alternator, relay panel, etc, and adding in the MSD. This time I sourced the factory coloured wire from Britishwiring.com, so all wires match the factory diagram, adding point after point to the concours score.
Here are a couple of Youtube videos I made on the subject:
https://www.youtube.com/watch?v=on5ieAJr79Q&t=29s
https://www.youtube.com/watch?v=dIbl46xty-8
Lastly, the Armstrong Selectaride rear dampers were rebuilt. What an incredible amount of logistics just to restore these:
1. 2 units purchased from Australia as my spares were stolen a few years ago. Just try to find 2 rebuildable ones for a DBS!
2. One unit had a corroded housing , and another was missing a lever arm, so yet a third unit was found in the UK.
3. Third unit had a bad circuit board, but a good housing, and wrong side lever arm, so a fourth unit that was disassembled was purchased.
4. Turns out that the 4th unit had a better hosing than #2, and the correct lever arm.
5. A pile of parts was sorted, measured, tested as best I could, and sent to the rebuilder for disassembly and sorting.
6. Rebuilder ships back housings to me for refinish. Hardware gets plated by my plater, who does the correct shade of cadmium clear, lever arms get powder coated,and circuit boards are sent to Oddparts for rebuilding, along with the electrical tethers. Switch is also rebuilt. The result is a good, working set of Selectaride rear dampers..
Here are some Youtube videos on the subject:
https://www.youtube.com/watch?v=spsSpB7 … e=youtu.be
https://www.youtube.com/watch?v=ql94yQX … e=youtu.be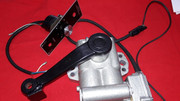 Hope you all enjoy the update. For further wonders of Aston Martin restoration, please visit my site:
http://www.ohmssdbs.com/welcome/
Have a great summer, everyone, and I will post again this fall with, hopefully, some lovely Olive paint on Her Majesty's DBS.
Cheers, Tom