Topic: The random clothes-identification thread
The idea behind this thread is to help others identifying the clothes they seen on tv, in movies, etc, anything non-Bond related.
I'll make the start with the following:
This jeans dates back to summer/ autumn of 2004.
the trousers itself are a bootcut. Distinctive are two details:
- the back pockets feature a double arc in gold, cold be the letter "M"
- the outside tag in the back is on the left side, which is very special. Levis, Diesel, etc. all have it above the right back pocket.
The colour of it is white.
Hoping someone can help with the brand...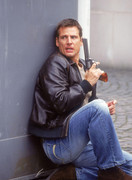 The name is Walker by the way.