Re: Omega MOVIE watch, No Time to Die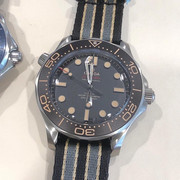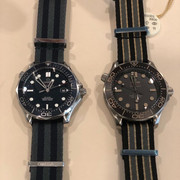 Went by my AD to see if they had the new Omega Lifetime magazine and they sadly hadn't received any yet. HOWEVER, they did have the new Bond watch!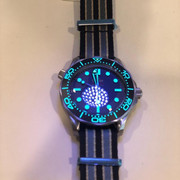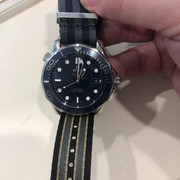 The associate I talked to was extremely helpful and the most knowledgeable about the brand that I've encountered there! He was even wearing his own limited edition Aqua Terra from Spectre and graciously let me try it on! I think it's safe to say he was a fan of Bond, too!
My issues with the watch were washed away by finally seeing it in person! Well, except the one-price. It's too bad because I was blown away by it. They did have one on the Milanese, but it wasn't on display as it was a pre-order and a customer was on the way to get it. I didn't ask to see it. I did match the NTTD nato with my Seamaster just to see how bad it would clash. I've seen others match the Spectre nato with a blue face and it doesn't work for me.
I left really wanting the watch, but I can't justify it right now. I'm envious of all of you who've gotten one! Wear it in good health!
@JaviTru on Twitter and @TheBondIsNotEnough on Instagram. Occasional contributor to thejamesbonddossier.com