Topic: FS BR Bond Cotton Peacoat, Seagull Seamaster, 7FAM Mercer,Budget items
Recent purchases require me to thin out the collection, getting rid of duplicates and items I don't use. 
I am located in the US, so payment in USD, Paypal F&F preferred or add 3%. Shipping is extra unless otherwise noted.  Smoke free home.
Seagull Seamaster Blue Dial - $175
One of the best budget Aqua Terra alternatives. No longer in production. Has marks on bracelet from previous owner. I only wore it on a leather strap. My taste in watches moved towards vintage inspired and GMTs, so it's not been worn the last year.
Billy Reid Bond Cotton Peacoat NWT Size Large - $325 (USA shipping included)
Bought new when it first came out. I ended up with a couple other cotton Billy Reid coats I wear instead.
It's been stored in the closet in a garment bag for years, so it will need an ironing or pressing.
Dimensions of the peacoat are:
Chest pit to pit: 22 inches (21.5 inches one inch below armpit).
Back Shoulders: 19 inches
Outer sleeve: 26.5 inches
7 For All Mankind, Slimmy in Mercer,size 33 - $35
Blue hardware. Size 34 inseam but closer to an actual 33. I bought them in hopes they would fit me. Alas I need a 34 or 35 to avoid the jeggings look with the slimmy cut. 
Jeans in beautiful condition. Close up pic are closer to the true color.
Levi's 508 in Silver Birch NWT, Size 34x34 - $30
A budget alternative to the Silver Birch Sta-Prest 306. I've always been afraid to wear them. 
J Crew swim shorts size 33 or 34 - $30 (USA shipping included)
These swim shorts are a budget alternative to the Sunspel shorts. Discussed in this thread: https://www.ajb007.co.uk/search/topics/user/15591/
I had planned to get button down belt loops installed on my pair, and still may, but I don't need 2 pair for the fabric. Buyer decides which size he wants.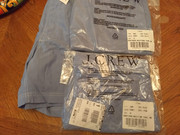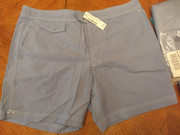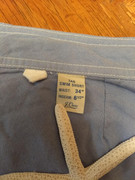 I also have a size 34 in sea blue - $10
Herring Canterbury Chukkas size 11UK - $75 ( US only, includes shipping)
Discussed by Iconic Alternatives: https://www.iconicalternatives.com/2015/11/30/church-ryder-iii/
Bought new from Herring but never worn out. A slight ding to the welt of one boot. It came that way from Herring.
Beautiful boots, but too pointed in the toes for my taste. More C&J than Church Ryder. 
US only. Shipping included. Pictures on request.
Willing to trade for the following items:
QoS Adidas Y-3, size Medium
7FAM Mercers, Standard size 34x34 or Slimmy size 35x34 or 36x34. I like the look of the Mercers. Not stuck on SA.
If you have any other ideas about an item to trade please send a pm.
Last edited by Westward_Drift (26th Oct 2019 02:06)