Topic: £100 James Bond (Dr No) plaque. Screen used prop from the first film.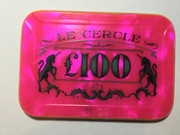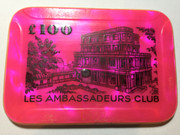 As shown, £100 plaque of the same type (and era) as the ones in the iconic baccarat scene with Sylvia Trench.
Lent to the film company by the casino (Les Ambassadeurs) and doubt the list of numbers lent actually exists.
Nonetheless there are about 40 (maybe 50) of these shown on the table and as I have about 180 out of the 200 made (or that ever existed) there must be some from the film in my lot just a pity I don't know which, obviously.
This one is decent with 1 smallish ink spot on the back but lies flat, not that many do.
A proper polish/clean may improve the slightly dull look and the edges have turned a little brown like almost all have done but may benefit from (as stated) a more thorough and experienced clean. They were wrapped in tape which is where the brown marks are from in the main, doesn't affect the beauty in the slightest.
These were found in a barn in Scotland and they'd been sat in plastic boxes so I'm amazed any survived in anything like a nice condition, but they did. Not a great % of the best/better ones so plenty of cheaper ones if happy to have mis-shapen ones.
They all suffer from the same smell too (nature of the beast with plaques from this era) as the chemicals used then weren't "stable" but as long as you treat them with care, they should outlast both of us. Even I couldn't ruin them by treating them any worse than they have been.
If provenance wanted then please ask as I have many things from the casino as they came from the original owners family no less.
Sorry this is boringly lengthy but as stated earlier, I like to try to cover all possible questions, bet I missed some though.
This plaque is for sale at £300.
I sold a few of the better sets at bargain prices at the beginning as I had "payback" to do but they are still cheap (IMHO) considering what they represent, so please don't let the chance to own one pass you by.
If not to your liking then please check out ebay as I have a few up there too, mainly to show the different types of condition/grades and pricing.
Last edited by DrNoPlaques (30th Dec 2019 09:22)