Topic: FS : ZARA Enjoying Death Shirts + BELSTAFF
For sale 3 Zara shirts , 2 size L and one size XL.
Only one shirt is mine, the others belong to members I know.
I received and cleaned all the shirts.
SIZE L :
Pit to Pit: 22"
Sleeve length: 26"
Shoulders: 20"
Waist : 19,5"
SIZE XL
Pit to Pit: 23"
Sleeve length: 27"
Shoulders: 20,5"
Waist : 21,5"
300 euros PER SHIRT + shipping express including tracking number and zero customs charges.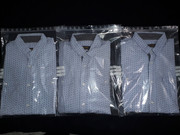 I also have a BELSTAFF POLICE jacket size M for sale. The one featured in The Departed and worn by Leonardo Dicaprio.
I know it's not Bond related but it's very nice jacket.
Last edited by timiblade (13th Feb 2020 00:53)