Topic: You Only Live Twice Commander Bond naval ribbons
Hello all, I've been trying to identify the various military ribbons that Commander Bond has on his chest when in naval uniform. I found this picture online that is either the screen used uniform or a good replica and the ribbons are more visible: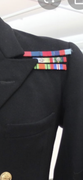 It also appears that he has rosettes on 2 of the ribbons.
I think I've identified some of them but was just hoping someone could let me know what the ribbons are and what significance the rosettes have to his service?
It's also interesting to note that the ribbons differ substantially from the naval uniforms worn by Moore and Brosnan when they wore naval uniform.
Japanese proverb say, "Bird never make nest in bare tree".