Re: Massimo Alba Coat
So my duster coat arrived this morning.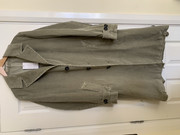 Gotta say, I absolutely love it!
For detail...
2 Buttons on each sleeve.
Pockets lower than on screen accurate - but definitely at a height that is natural to put your hands into...should you be so inclined!
Outside of that, colour is definitely of the sage/green tinge and not of the more beige/brown in some pictures.
The cord feels like velvet to touch and the unstructured nature of the coat means that the 'hang' will be different depending on your shape and size.
What do I mean by that? Well if you think of Bonds overcoat at the Spectre funeral, that had massive structure built in to it. So, given that structure, it would kind of form the look of the coat around you...irrespective of your physique.
The Massimo Alba duster is not that coat. It is softer. It's lines flow and find their way around you. The 'hang/look' of the coat will be different for everybody.
I'm 182cm/6'2 feet with a 32" waist. I took a IT50 in other MA clothing (including a beautiful brown, velvet, double breasted coat), they (MA) told me to size down to an IT48 for the duster. I was worried about arm length (always an issue for me). It fits perfectly.
Clear conscious...I love this brand and have bought a lot of it (a lot of non-Bond related as well) as it really seems to suit my physique and my style.
They're not paying me in any way at all for anything I post here - I wish! ;-)
If you are a collector and only want SA, you're probably going to want to step away because of the pocket position.
If you are informed by Bonds style but don't need it to be SA, I would highly recommend this purchase if you think if fits your style and budget - cos it's not cheap!
But the quality of the tailoring is first class and the material used is top of the line.
I will post pictures of me wearing it - and it definitely IS a 'buttons undone, collar up,
free flowing in the wind behind you' kind of coat!
Any one who wants a rain coat to keep them dry on their commute should definitely look elsewhere!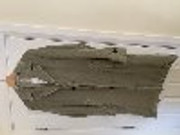 Yes. Considerably.