Topic: NTTD N Peal Budget alternative Commando Sweater option
While I like the N Peal Sweater, just not sure if I could fork over the money for it, especially living in Florida, but I would still like something similar.
This is far from the exact thing but LL Bean appears to have a similar Commando Sweater. It has a different neck opening and no strings but for the price I thought some collectors here might be interested.
https://www.llbean.com/llb/shop/43324?p … r-crewneck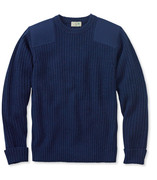 Currently own: NTTD RT Supply jacket Large, MI:Fallout Boss Coram Bomber jacket 40R, CR: Sunspel Polo Large

Currently want: NTTD Massimo Alba Sloop Suit