Topic: The quarantine home photo project
For months now we have been spending more time than usual at home. We have spent less time than we migh have wanted with friends and other people in general. Worst of all, we have been forced to wait for far too long for NTTD

I got an idea: why don't we sort of travel the world and get to know each other better by sharing photos of where we have spent so much time lately, namely our homes?
You can post a photo of barbequeing in the garden, your Bond stuff collection, your dog or white cat etc.
Please remember to show bank statements, alarm passwords and sunbathing wives/girlfriends clearly visible for all to see.
Now I have something to confess. I have the technical know-how of an average 90 year old, so I'm having trouble uploading new photos to my computer. So this photo is from last summer. By now it's completely out of date. The paperback on the table this year was Thunderball.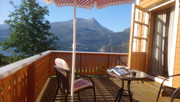 Last edited by Number24 (14th Aug 2020 12:42)