Topic: The Gentlemen knit cardigan quest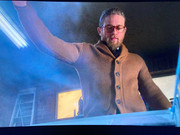 Dear all, apologies that this is not Bond related. Only I figured this might be the only place to come and get answers or suggestions. I have been asked recently on my platform where one might acquire Charlie Hunnam's knit beige cardigan as seen worn in Guy Ritchie's film, The Gentlemen. I have to say I may be in the market for one myself.
Any help greatly appreciated.
Pete