Topic: What is the most socially distanced Bond film?
It's relevant, because post Covid, they may require a different kind of Bond film.
My vote is for Doctor No.
It's a bit odd.
I like it. But it all seems a bit detached. Nobody really connects. Bond is at least a foot away from M in his briefing, behind a desk. Nobody else is there. Not sure if Jamaica would be on any travel corridor...
Dr No wears a face mask much of the time. And as his hands are metal, touching is less of a problem.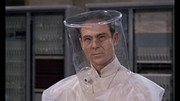 V few extras in No's lair, okay because of costs. What happens if someone bunks off and pulls a sickie. 'What do I have to do here? Throw me a bone someone! I do not expect another delay!' They might not get a replacement. Then again, Bond is a stand in, just mooching around, like he's employed on Track and Trace.
When Bond follows Quarrel to Pussfellas, he's social distancing.
"This is where we leave you Mr Bond."

Roger Moore 1927-2017