Topic: FS Wested Layer Cake Jacket
This is a custom fitted size 44 Layer Cake jacket from Wested in black lambskin. The shoulder is smaller than the stock jacket, a taper was added to the sleeve, and the waist measurement is tapered from the chest.
The jacket also has the correct white stitching and the contrast sections were dyed a more accurate red since it came with a too dark almost brown leather originally that you can see by the label.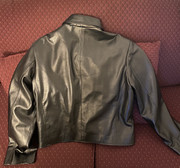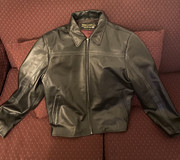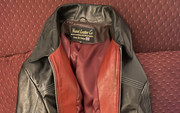 Measurements are as follows
Sleeve from shoulder to end: 25.5"
Back length from collar to hem: 24"
Half shoulder: 6.5"
Full shoulder: 19.5"
Pit to pit: 22"
Waist: 20"
There was a mixup with the measurements from Wested and the jacket turned out too small, I tried it on a few times but never wore it because even with some weight loss this is never going to fit. Wested doesn't offer returns for their custom stuff so this is like new and I hope it can go to someone who'll get some wear out of it.
Looking for $200 shipped in the US but open to offers, international shipping is possible but expensive.
Last edited by Timeyswirls (23rd Jan 2021 14:47)